PROSTATE CANCER SCREENING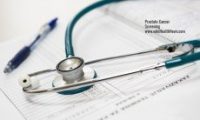 PROSTATE CANCER SCREENING
Prostate cancer: PSA screening does lower death risk, says scientific review.
PSA screening for prostate cancer
The American Cancer Society (ACS) state that the majority of men without prostate cancer will have a PSA level under 4 nanograms per milliliter. Men with a PSA level of between 4 and 10 nanograms per milliliter have a 1 in 4 chance of having prostate cancer, while a PSA level over 10 is associated with a 50 percent chance of developing the disease.
Read More