Heart Disease in Women: Early Signs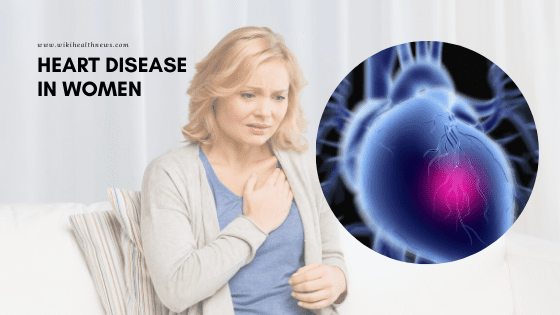 Heart Disease in Women
---
---
Why we should be worried about heart disease?
---
Ischaemic heart disease and stroke are the world's biggest killers, accounting for a combined 15.2 million deaths in 2016. These diseases have remained the leading causes of death globally in the last 15 years.
---
What are the traditional risk factors for Heart disease in women?
---
 Diabetes mellitus
Hypertension
Dyslipidemia
Obesity
Physical inactivity
Smoking
---
What are the Non-traditional risk factors for Heart disease in women?
---
Pregnancy-Related Disorders and CVD Risk Association

Preterm Delivery
Hypertensive Pregnancy Disorders
Persistence of Weight Gain After Pregnancy

Autoimmune Diseases: Rheumatoid Arthritis and Systemic Lupus Erythematosus
Radiation and Chemotherapy for Breast Cancer
Depression
---
What are the symptoms of heart disease in women?
---
Symptoms of heart disease in women can also be confused with other conditions, such as depression, menopause, and anxiety.
Common heart disease symptoms in women include:
indigestion or gaslike pain in the chest and stomach
cold sweats
dizziness
paleness
shortness of breath or shallow breathing
lightheadedness
fainting or passing out
anxiety
nausea
vomiting
Neck, jaw, back pain
---
What is Broken Heart Syndrome?
---
Stress-induced cardiomyopathy was first described in Japan in 1990 and was named after the octopus trapping pot with a round bottom and narrow neck, which resembles the left ventriculogram during systole in these patients.
It mainly affects postmenopausal women and is often preceded by extreme physical or emotional triggers. The clinical presentation, electrocardiographic findings, and biomarker profiles are often similar to those of ACS, but the coronary artery anatomy is found to be without significant obstructive disease at angiography.
The cause of Takotsubo cardiomyopathy remains unknown, but is thought to be related to a disproportionate distribution and activation of myocardial sympathetic receptors. The ventricular dysfunction, which usually involves the left, but may also involve the right ventricle, generally resolves within several weeks with supportive therapy, including β-blockade; however, especially in the presence of significant comorbidities, the outcome may not be benign.
---
What is the summary of  healthy diet ?
---
A healthy diet is low in:
sodium (salt),
added sugars,
solid fats,
refined grains.
Solid fats are saturated fat and trans fatty acids. Refined grains come from processing whole grains, which results in a loss of nutrients (such as dietary fiber).
---
What is DASH diet or eating plan?
---
The DASH eating plan requires no special foods and instead provides daily and weekly nutritional goals. This plan recommends:
Eating vegetables, fruits, and whole grains
Including fat-free or low-fat dairy products, fish, poultry, beans, nuts, and vegetable oils
Limiting foods that are high in saturated fat, such as fatty meats, full-fat dairy products, and tropical oils such as coconut, palm kernel, and palm oils
Limiting sugar-sweetened beverages and sweets.
---
---
When following the DASH eating plan, it is important to choose foods that are:
Low in saturated and trans fats
Rich in potassium, calcium, magnesium, fiber, and protein
Lower in sodium
---
What are the symptoms should not be ignored in women as warning of heart disease?
---
Dramatic chest pain may not be there for a women.
1.Unusual fatigue:
You are suddenly worn out after your typical exercise routine.
You aren't exerting yourself, but have fatigue or a "heavy" chest.
Simple activity like making the bed, walking to the bathroom or shopping makes you excessively tired.
Although you feel exceptionally tired, you also experience sleep disturbance.
2. Sweating and/or shortness of breath:
Sudden sweating or shortness of breath without exertion
Breathlessness that continues to worsen over time after exertion
Shortness of breath that worsens when lying down and improves when propping up.
What are the symptoms you should look out for heart disease in women?
Chest pain may not be there for a women. If it is there it may suggests heart disease. If chest pain is not there then it does not exclude heart disease.There may be only discomfort , heaviness, sense of pressure or heavy weight.
You should carefully look out  for the following findings:
Women, in particular, can have pain in either arm — not just the left one like many men.
Pain in the lower or upper back often starts in the chest and spreads to these areas.
The pain is sometimes sudden, not due to physical exertion, and can wake you up at night.
You may feel pain that is specific to the left, lower side of the jaw.
---