Benefits Of Eating Ragi Millets Daily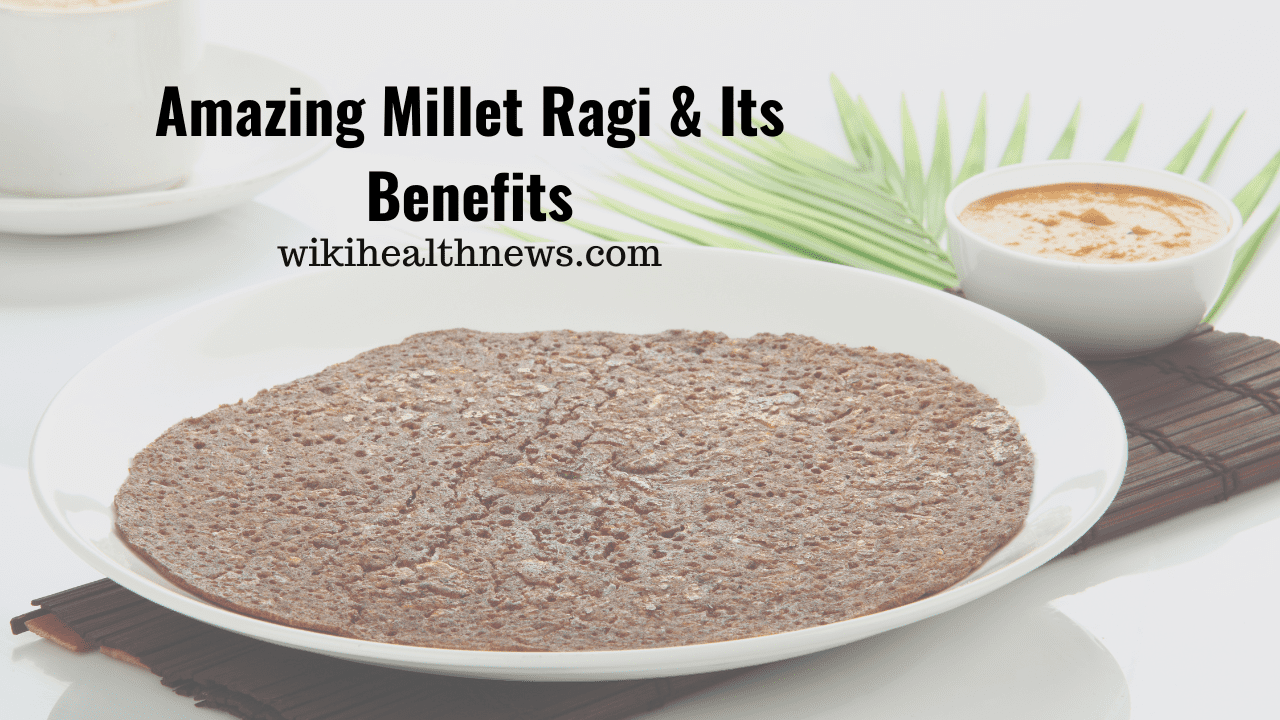 Ragi is otherwise known as finger millet. In India that is the one of the most important cereals which occupies the highest area under cultivation among the small millets. The state of Karnataka is the biggest producer of ragi in India. Ragi is a crop that can withstand severe drought conditions and can be easily available throughout the year.
Content of Ragi:
Ragi is a rather impressive nutritional profile, encompassing all the essential macronutrients- carbohydrates, fiber, fats, and also protein. Then ragi contains micronutrients like vitamins and minerals. It has negligible levels of cholesterol and sodium. It will help to promote heart wellness. Ragi contains quantities of vitamin C and E to boost immune, skin and hair health. The b complex vitamins like thiamine, riboflavin, niacin and folic acid as well as calcium, magnesium, iron, and phosphorus are also found in ample amounts in ragi flour.
In ragi:
Calories- 385
Fat-7%
Saturated fat – 3%
Polyunsaturated fat- 5%
Monounsaturated fat 2%
Cholesterol- 0%
Sodium- 0%
Total carbohydrates- 25%
Dietary fiber- 14%
Sugars- 2%
Protein 10%
Calcium – 26%
Iron- 11%
Potassium 27%
Thiamine – 5%
Riboflavin – 7.6%
Niacin – 3.7%
Folic acid- 3%
Vitamin C – 7%
Vitamin E – 4.6%
Health benefits:
Maintain bone health:
Ragi is the richest source of calcium among the plant foods. Calcium along with vitamin D helps strengthen bones. It is a great source of natural calcium for children and aging people. It helps in strengthening bones in growing children and in maintenance of bone health in adults. Ragi helps to keep bone problems at bay and could reduce risk of fractures as well.
Aids weights loss:
Ragi contains a amino acid, tryptophan which reduces appetite. It has a much high amount of dietary fiber compared to white rice and other grains. It has fat but its a low fat cereal and those fats are in the unsaturated form. This makes the best choice in grains for people trying to lose weight. The bulkiness of the fibers and the slower digestion rate makes one feel fuller on fewer calories and therefore helps prevent excess calories consumption.
Lower high cholesterol levels:
Ragi contains amino acids lecithin and methionine which will help bring down the cholesterol levels by eliminating excess fat from the liver. Finger millet contains the amino acid threonine which hinders fat formation in the liver, and helps bring down the cholesterol levels. The high fiber content of ragi also keeps the cholesterol problems under maintain level.
Helps in anemia:
Ragi is a great plant source of natural iron. Taking ragi will help in anemia. Vitamin C increases iron absorption. Sprouted ragi have vitamin C in the process of sprouting, therefore the iron in ragi causes more bioavailable when consumed as sprouted ragi flour or ragi malt.
Eating Ragi reduces the diabetes:
Due to the high polyphenol and dietary fiber content in ragi, regular consumption is known to reduce the risk of diabetes mellitus and gastrointestinal tract disorders. Ragi helps diabetics as they contain higher amounts of fiber over other cereal and millets. Diets based on whole finger millet have a lower glycemic response and lower ability to increase blood sugar levels. This has been attributed to the presence of certain factors in ragi flour which lower the digestibility and absorption of starch.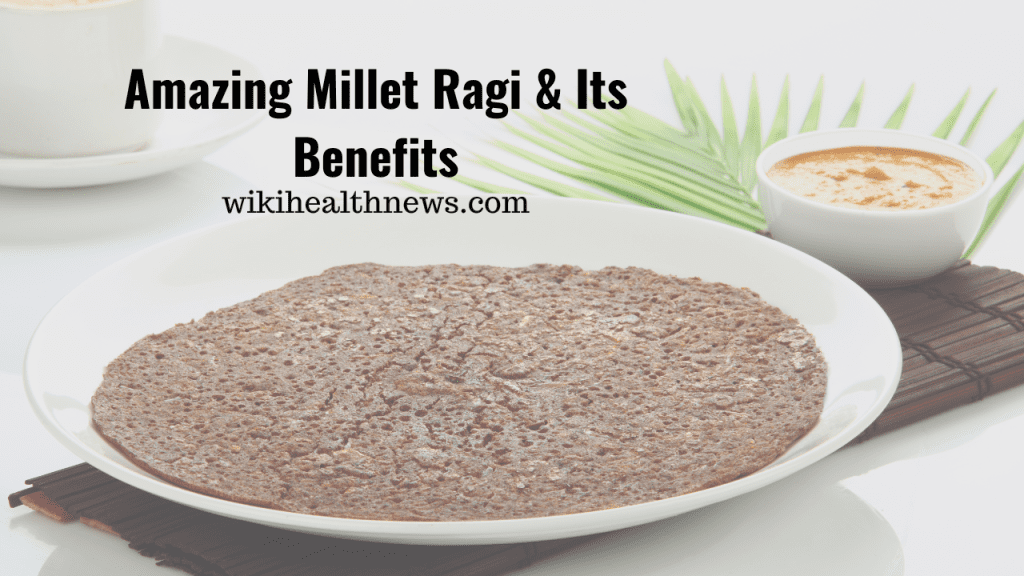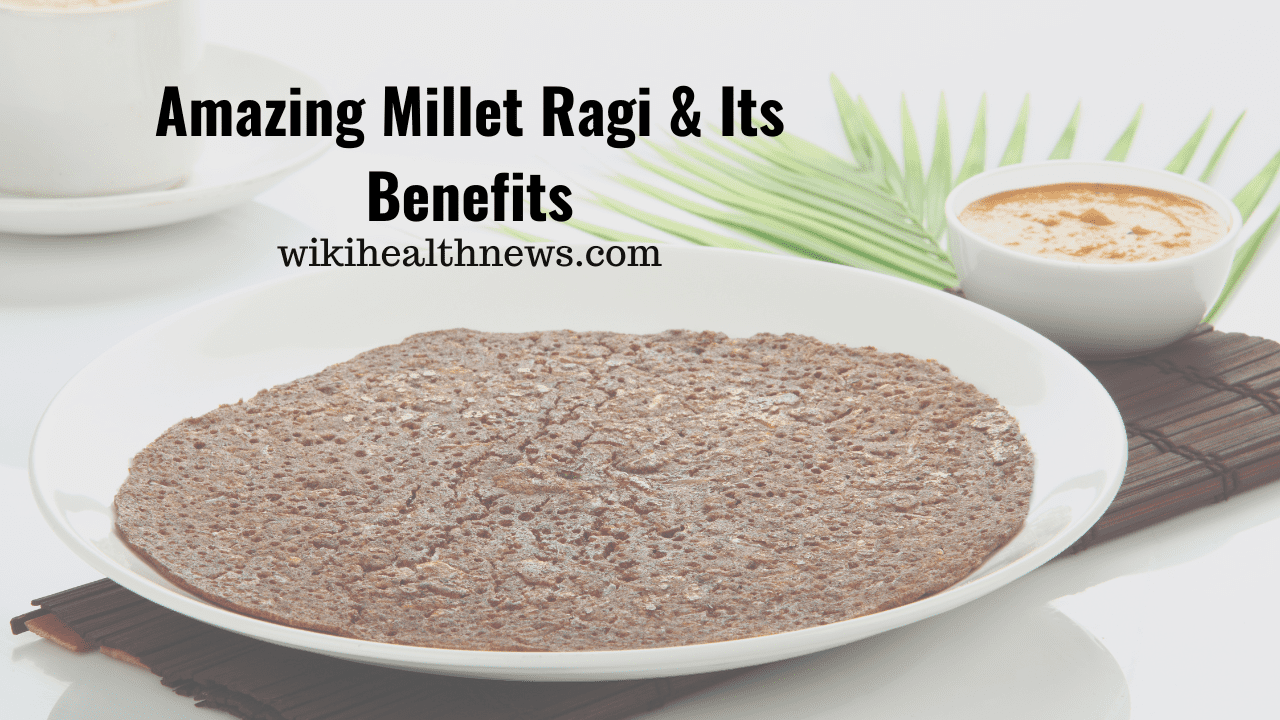 Helps in relaxation:
The good benefit of ragi is it helps to relax the body naturally. It is found to be useful in conditions of anxiety, depression, migraine, and insomnia.
Source of essential amino acids:
Ragi is rich in amino acids vitals for the body. Ragi contains amino acids namely Tryptophan, Threonine, Valine, Isoleucine and Methionine. Isoleucine helps in muscle repair, blood formation, bone formation and improves skin health. Valine is an essential amino acid which facilitates metabolism and repair of the body tissues. Another essential amino acid, not found in other cereals, is Methionine. It is found in the ragi and therefore makes it a complete protein food unlike other cereals and millets. The amino acid methionine is useful in various body processes, which helps in eliminating fat from the body, and is the main provider of sulfur in the body which helps to the production of Glutathione which is important for antioxidants.
Ragi is great sources of protein and fiber:
100 grams of ragi gives 7.29 grams of protein and 16.5 grams of fibers. Because of this only the ragi is called an excellent source of protein for vegetarians. Due to high fiber content, it prevents overeating and keeps it full for long periods of time. That will help for weight loss. 
Read more